Providers and Staff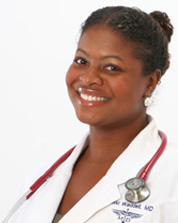 Dr. Nikki Waddell, M.D., FACP
Dr. Nikki Waddell is originally from Charlotte, North Carolina, She completed her undergraduate degree at the University of North Carolina at Chapel Hill with a BS in Mathematics. She then attended medical school at The Brody School of Medicine at East Carolina University. Her Internal Medicine Residency was completed at Eastern Virginia Medical School. Dr. Waddell is Board Certified in Internal Medicine. She has privileges at Sentara Potomac Hospital and Inova Alexandria Hospital. She previously practiced as a Hospitalist and was a provider at Primary Care Associates of Potomac for four years before starting Kingstowne Internal Medicine. She is currently co-chair of the Continuing Medical Education Committee, member of the Physician Safety and Pharmacy and Therapeutics Committees at Sentara Potomac Hospital. Dr. Waddell enjoys being active in community service and hobbies include travel, movies, running, and yoga.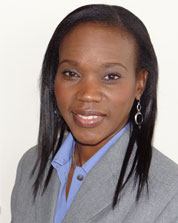 Rosemarie Randolph, M.S., R.D.N.
Rosemarie Randolph, MS, RDN is a registered dietitian nutritionist who is passionate about helping individuals enjoy food and live healthy. She has worked in various positions in healthcare settings for 14 plus years as a registered dietitian. She obtained a BS degree in Food and Nutrition Sciences from SUNY Plattsburgh, NY and then went on to University of Central Oklahoma where she completed her dietetic internship and obtained a MS in Food and Nutrition Management. She is an active member of the Academy of Nutrition and Dietetics, Northern Virginia Academy of Nutrition and Dietetics, and Virginia Academy of Nutrition and Dietetic. She is certified in Adult weight Management by the Commission of Dietetic Registration. She is excited to be a part of the Kingstowne Internal Medicine team where she can work with other medical professionals to help educate individuals to live healthier lives. When she is not working she enjoys spending time with her husband and 3 children.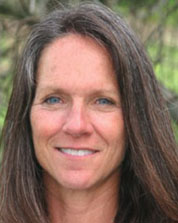 Paula Jarvis, CPT (Personal Trainer)
Paula Jarvis grew up in Boston, MA  and received her Bachelor's degree in Psychology from Wellesley College.  She went on to receive her Master's Degree in Education from Indiana University, with a focus on college administration.  After a few years in Washington DC working with a college internship organization, she married a Ranger with the National Park Service and set off on the adventure of living in some of the nation's most beautiful National Parks and raising two children while working in a wide variety of education situations.  In 2003, she chose to become certified as a Personal Trainer so she could share her belief in the importance of a healthy diet and active lifestyle. She is thrilled to be joining Dr Waddell's health team and believes firmly that with the help of a supportive team such as Kingstowne Internal Medicine, anyone can enjoy a healthy diet and active lifestyle.   Outside of her work, Paula enjoys always being outdoors, running, gardening, cooking and quilting.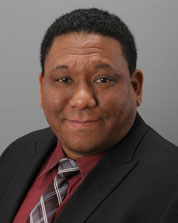 Naoji Watson, Psy.D.
Dr. Naoji A. Watson is a Licensed Clinical Psychologist was born on Lakenheath Air Force Base in England. His family is extremely diverse and multicultural and he has lived all across the United States as a dependent in the military and in Okinawa, Japan, and most recently Virginia. His diverse military and family background led him to his undergraduate studies at the Pennsylvania State University where he obtained his Bachelors of Science in Psychology. While in school Dr. Watson became committed to the mental health field and studied and volunteered in numerous non-profit mental health agencies to gain invaluable experience in helping others. Dr. Watson attended graduate school at Argosy University where he obtained his Masters in Counseling and Psychology, as well as his Doctoral Degree in Clinical Psychology where he developed a special interest in multicultural competency and mental health treatment. Dr. Watson has over 15 years of clinical experience and finds collaborative work essential with other professionals in order to provide the highest level of care in treating the whole person. He has a passion for traveling and learning about new and interesting people, cultures, ideas, and ways of thinking. His curiosity and openness to diversity is an essential component of his treatment and allows him to be flexible, adaptive, creative, and effective in his professional care. Dr. Watson enjoys a wide range of interests including reading, writing, soccer, hiking, motorcycling, meditation, and volunteering.
Forms: