Artist Biographies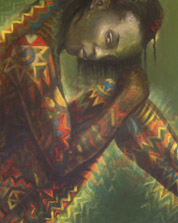 Marcel Taylor
Marcel Taylor was born in 1970. Raised in Houston, Texas, Marcel has been creating artwork for most of his life. Childhood influences included the art of John Biggers and his symmetrically intricate compositions, and the work of Ernie Barnes and his expressive human figures. As Marcel approached adulthood, a burgeoning interest in world history, and specifically African art and culture, begin to take shape. As his research fueled the inspiration for his art, he was accepted, in 1988, as a scholarship recipient of the fine arts program at Howard University, in Washington, DC. He received artistic training under Professors Alfred Smith, Winston Kennedy, Frank Smith, Winnie Owens-Hart, the Skunder Boghossian and others. At Howard, Marcel developed a signature painting style, which displays vibrant hues, pattern, and high contrast. In 1992,
Marcel graduated from Howard and received a BFA degree in 1992. Marcel has shown in numerous galleries and exhibition spaces. In 2002, he gained artistic acclaim with his dynamic body of work called Cityscapes. For years he exhibited Cityscapes at Artjaz Gallery in Philadelphia, PA. Marcel has also shown at Gallery Guichard in Chicago, IL, the Puck Building in Manhattan, NY, the Corridor Gallery in Brooklyn, NY, the Myrtis Galerie in Washington DC, and Baltimore, and numerous other venues nationally and within the DC Metropolitan area. In 2010 he was one of the featured artists in the National Urban League 100th Anniversary Conference Art Expo.
The body of Marcel's work is a collection of paintings that varies from the urban spontaneity of his Cityscapes series, to his alluring figure paintings, and to his expressive abstract paintings. The figure and abstract paintings draws upon cultural narratives, historical events, and urban culture to engage the audience. Utilizing acrylic paint, Marcel formulates compositions of rich color palettes and texture. He often embraces the artistic canons of his ancestors, as his work often exhibits African artistic sensibilities such as pattern and symbolism. With vibrancy and texture, Marcel creates imagery of universal appreciation influenced by ancient aesthetics. Currently, Marcel Taylor resides in Washington, DC where he divides his studio time between private commissions and fulfilling gallery needs.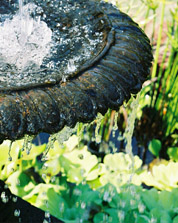 Laura A. Cherry
Laura received an MA in art therapy from Florida state university Ph.D., in art education with an emphasis in art therapy.
 
Currently an art teacher to over 850 students at a Title I school in Prince William County, Virginia,  I find that my background in art therapy helps me to identify children that are struggling with unspoken issues.  I am able to work closely with the school social worker and together we create intervention and healing plans.   I can also share with classroom teachers young students (K) that will struggle with motor skills, reading, and math based on their fine motor skills and the way they problem solve in the art room.
 
 Art therapy is a profession that comes from two different professions:  art and psychotherapy.  Some forms of art therapy focus on dealing with the art-making process as therapeutic in and of itself ("art as therapy"), while other forms of art therapy focus on the psycho therapeutic transference process between the therapist and the client who makes art. The therapist interprets the client's symbolic self-expression, as communicated in the art, and elicits interpretations from the client.
 
Although I have used both forms of art therapy mentioned above, my focus as a therapist is Art as Therapy. Many of my photographic images are taken overseas where I  work with children with multiple disabilities.  I use the art making process to help create normalizing experiences for children who are often seen as unable to be creative.  In many Caribbean countries, children with disabilities are seen as "taboo" and they are abandoned in hospitals at birth and raised by government agencies.  My personal art therapy work takes these children with disabling conditions out of institutions to provide art experiences. I adapt the art materials to meet their physical needs so that they can express themselves.  In one particular case, a child with cerebral palsy was able to paint and create with his feet.  I shared his story with the local minister of social services... she visited the center where we were working and bought with her a camera crew.  When the little boy was seen on the local news, a family stepped forward to adopt him.  He no longer lives in an institution, he lives with his forever family.
 
As a professor at the university of Louisville, I created study abroad programs for graduate students to travel to the Caribbean and Sweden to work with children with multiple disabilities.  I am currently an adjunct professor with Emporia State University and colleagues and I are planning to take a group of graduate  students to the Caribbean to work with the children this July 2012.
 
So much of psychotherapy focuses on what is wrong with a person.  My art therapy work focuses on what is right with the children... on what they are able to do versus what they are unable to do.  My art work also focuses on what is "right" with the world.  The beauty found in nature and in natural settings.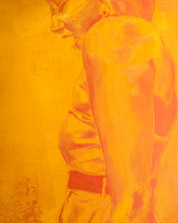 J'Nell Jordan
J'Nell Jordan was born in 1987 and in raised Northern Virginia. She attended Adelphi University in New York on a visual arts talent scholarship and received her Bachelor of Fine Arts Degree in 2009. Since then, she's shown her work at various galleries in Washington, DC, Maryland and Virginia. J'Nell is an image collector of photographs taken at parties and other events and paints to capture the "feel good" moments; those moments where figures are caught in the vibe of the music, posing, flirting or caught mid-smile. She paints with oil on top of metallic acrylics using a subtractive fashion of painting, where she wipes away, etches into and press against the top layers of oil paint to layers underneath. Lighting plays big part in her work because it interacts with the metallic colors to reveal different intricacies and patterns from certain angles. This really speaks to the party environment the figures inhabit. There is a youthful spirit in her work, which comes from her influences. The very things that she comes into contact with in current culture, music, fashion and design are combined with her loves for drawing the figure, pattern and metallic light. She now lives in works out of the DC Metropolitan area.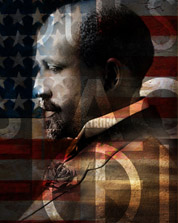 David Wilson
Born and raised in West Virginia, David Wilson explores his life and heritage through his creative gift. While an undergraduate at Hampton University in Hampton, VA, Wilson's artistic talent was encouraged and nurtured by internationally acclaimed painter, teacher and philosopher, Dr. John Biggers. In 1997, Wilson was signed to Essence Art (Essence Magazine) for offset reproductions of his original works. Two years later he was commissioned to create a mural honoring Durham, North Carolina's historic black neighborhood, Old Hayti. This mural served as a turning point for his career as a public artist, garnering him recognition throughout the region and multiple commissions.
In 2009, Wilson received a commission to create a 500 square foot laminated art glass mural for the Harvey B. Gantt Center in Charlotte, NC. Through colorful, abstract metaphors and symbols, Wilson pays homage to Charlotte's African American community. Wilson has been commissioned to create cutting-edge, architecturally scaled public art in Durham, Kinston and Charlotte, NC. In addition to his public art, Wilson is an accomplished gallery artist and has exhibited his works throughout the United States and abroad in Germany, Spain and Japan. Most recently, Wilson had two works on display at the Harvey B. Gantt Center's Beyond Bearden: Creative Responses exhibit. He was honored to be a part of this ground-breaking retrospective of Romare Bearden's art and life. Currently, Wilson has two works in an exhibit at the African American Museum in Dallas.
As a mixed-media artist, Wilson synthesizes montaged clips of photographic imagery, borrowed from diverse publications...magazines, journals, books, then reworks and manipulates them into engrossing compositions that captures the universal while presenting the unique. Wilson says, "My art serves as an entry point into a greater understanding of self and my rich heritage. It is during the process of creation that I realize my ability to stop time and shape reality into my own personal and universal metaphors…While these metaphors manifest in black, I create for interpretation by everyone. My goal is to inspire introspection, education and communication."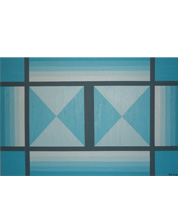 Rashida Waddell
Rashida Waddell has been an artist since birth, inspired by the natural beauty of everyday life. Whether she was creating portraits in crayon, or creative cards with glue and glitter, art was as second nature as walking and talking. Over the years, her talents grew to encompass acrylic and water color on canvas, designing and sewing bedding, curtains, and pillows, as well as the design and construction of lounge furniture. Rashida Waddell is certainly a jack of all trades when it comes to creative art.
After graduating from the University of North Carolina at Chapel Hill with a BA in Journalism and Mass Communication, Rashida explored the world of furniture design with her self started business, Rae of Light Designs. Her furniture pieces were featured in The Taste of Charlotte in 2004, where the general public was finally introduced to her unique lounge concepts and contemporary design.
Never feeding into the idea of art for the sake of shock and awe, Rashida designs for everyday living; creating custom pieces that flow seamlessly with residential decor. If you can't find the right artwork to hang over your fireplace, just give Rashida a call, and she will create one just for you, based on your color scheme and personal taste. With simple relatable concepts, her work is the perfect pop of color suitable for any residential environment. Rashida currently resides in Greenwich, CT, where she manages residential properties full-time, while continuing to create art pieces and furniture that enhance interior spaces part-time.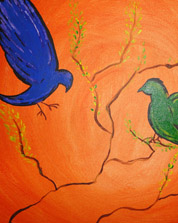 Malena Brookshire
Malena B. is an emerging artist who received six years of formal studio art training in the early- to mid-90s, and has quietly produced commissioned pieces for close friends and family for over 15 years. Malena has created several paintings, but specializes in pastel and pencil drawings, including carbon, graphite, and charcoal, focusing heavily on color as a means to make her artwork more dynamic and energetic.
Malena's work has been a part of group exhibitions, and can be seen at local businesses and art fairs throughout Washington, DC. While she primarily produces work on commission, she finds joy simply in sharing her artwork with others on her artist blog that explores the intersection between visual art and yoga.
Malena has practiced several types of yoga for over ten years and recently completed a 200-hour yoga instructor course. Malena strongly believes that the benefit she receives from her yoga practice significantly inspires her artwork.
When there is time to spare, Malena, a certified Project Management Professional and a Certified Government Financial Manager, dedicates her career to public service. She is currently a supervisor at the U.S. Securities and Exchange Commission, and has worked for the Executive Office of the President as well as the State of Wisconsin.